When our customer from China came to us wanting us to personalise their Valet Key, we ended up undertaking one of our most impressive Valet Key Upgrades.
The brief… to come up with a design to complement our customers stunning car which is finished in Morning Frost, with Carbon Fibre Effect and Red Accents.
Having discussed various design and upgrade options with our customer and agreeing to take on the issue of weight (or rather lack of it) our end result is a stunning Valet Key to be proud of.
Finished in Morning Frost, the key has a 5mm Carbon Fibre Effect stripe and is bracketed by 2mm Diavolo Red stripes and Carbon Fibre Effect Side Strakes. On the back of the key the design is interrupted by the iconic Aston Martin Wings Logo.

The Valet Key also boasts our unique Glass End Piece and Glass Key Button Upgrade. Additional weighting in the key brought its weight up from 26g to 36g, now only half the weight of the Glass ECU Key.
You can see the stunning results below
---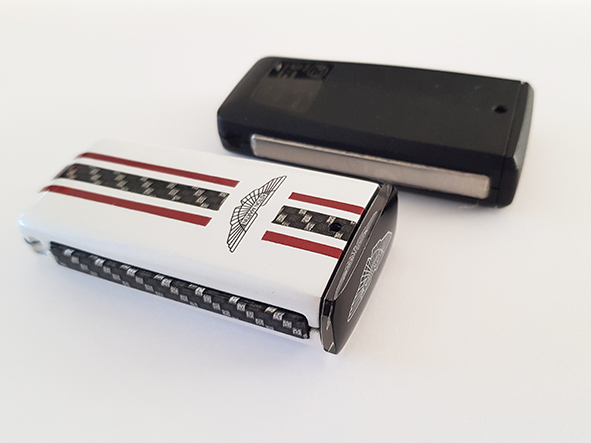 "Awesome!!! Thx so much!"

Rick W, China
If you would like us to upgrade and personalise your Aston Martin Valet Key,
please get in touch or visit our online shop.