Whilst we love upgrading and personalising our customers keys, our routes started with the not so simple repair of these stunning Glass Keys. Whilst we don't always shout about our less glamorous basic repair works, it is no less important to our customers.
Having been contacted by another of our customers with a heavily worn key with a damaged Glass End Piece we, of course, were delighted to not only repair their key for them but turn it around as quickly as possible at their request.
he key on the face of it had a completely smashed glass end piece and the black cage element was heavily worn.

When testing the key we also noticed the button operation was not as positive as it should be.
Upon disassembly of the key we not only dicovered that the internal case for the keys electronics had heavily worn rubbers but one of the case screws was threaded.
We discussed the issues with our customer who approved the replacement of the case and screw as well as the original work commissioned of the replacement glass end piece and us swapping out his damaged cage with a far better condition one.
The result was a repaired key that worked properly and looked much better than when it came in to us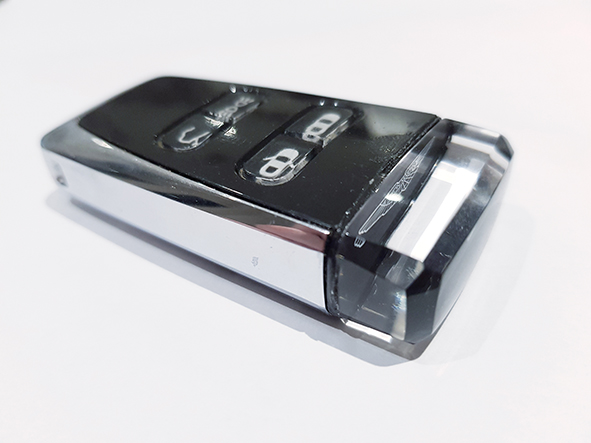 Fantastic Service

David A, UK
If you would like Phoenix AMKR to repair, upgrade and / or personalise your fob,
please get in touch or visit our online shop.